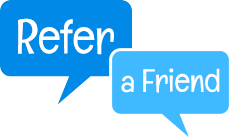 Your gift is only a few steps away...
Refer a friend program
A referral is the ultimate compliment. It gives us a great sense of pride to know that our customers are often willing to recommend RJK Construction Co. to friends, family members, or neighbors by sharing their experiences.
When you take the time to recommend RJK Construction Co., we want to show our sincere appreciation. For each referral that ends up getting some work done with RJK Construction Co., you can earn $50. Plus, your friend will get 10% off their work.
Just fill out the simple form below. We'll contact the person you think we can help. Once the work is done, we'll mail your gift.