Shingle Roofing in Solon, Beachwood, and nearby Northeast Ohio
We offer quality asphalt shingle roof options in Ohio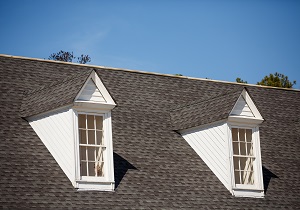 The preferred choice. Asphalt shingles are the most commonly used residential roofing material.
After making the decision to get a roof replacement, the next challenge that homeowners face is deciding what type of roofing material they want for their home. Modern technology has continuously evolved the roofing industry and led to the development of new materials from which to choose. It can be overwhelming to decide what is the best option for your home, which is why RJK Roofing Solutions is here to help.
Shingle roofing is the most common and popular type of roofing, available in a wide variety of colors and styles. We provide high-quality asphalt shingle roofing products that will give your home a beautiful and durable roof for years to come. Call us today or click below to learn more about these roofing materials and get a free estimate on roof replacement!
Asphalt Shingles
Asphalt shingles are the most common and popular residential roofing material, as they offer excellent versatility, durability, and affordability. Modern asphalt shingles are a composite material that includes a fiberglass reinforcement to prevent tearing. Asphalt shingles are offered in three tab and architectural styles, each of which has some advantages:
Three tab shingles
Consistent shingle size
Less weight than architectural shingles
Lower cost
Architectural shingles
Various sizes and shapes create dimensional appearance
Thicker shingles are more durable
Generally help improve property value
As an added benefit, roof repair can be handled relatively easily with asphalt shingles. The roofing pros at RJK Roofing Solutions can help you decide what type of asphalt shingles are the best fit for your home depending on your needs and budget.
An Owens Corning Platinum Preferred Contractor
Owens Corning is more than just a trusted name, but a market leader in roofing shingles, underlayment and components products. The Total Protection Roofing System® lasts longer and offer more choices to perfectly fit your project. You will see a beautiful roof, but we offer a system of highly engineered components, designed, built and tested to deliver total protection for your home. As one of a select few, RJK Roofing Solutions is an authorized Owens Corning Platinum Preferred Contractor. As such, we are the top tier of a premier network of roofing professionals dedicated to service, reliability and professional craftmanship – all to give you peace of mind that you have chosen the right contractor for the job.
A certified CertainTeed SELECT ShingleMaster™ roofing contractor
At RJK Roofing Solutions, we care about using the best possible building products for our roofing projects. We know that the durability and longevity of a product can make an enormous difference in the quality of the final project. That is why we are proud to be a certified CertainTeed SELECT ShingleMasterTM roofing contractor, allowing us to offer CertainTeed roofing materials to our customers. CertainTeed products are known for their longevity, performance, and value, making them ideal choices for any roofing job.
RJK Roofing Solutions offers all of our roof replacement customers the CertainTeed Integrity Roof System, which combines high-performance components including underlayments, shingles, accessory products, and ventilation to deliver a complete roofing solution.
Get expert roofing services in Ohio
Choosing the right roofing material is essential if you are considering replacing your roof, and we can help you find the best shingle roofing option for your home. We provide high-quality materials and expert installation, and you can count on receiving a beautiful, durable roof.
Call us today to get started with a free estimate in Mentor, Willoughby, Solon, Chagrin Falls, Painesville, Beachwood, Perry, Chardon, Chesterland, Novelty, and the nearby areas!
Looking for a price? Get a no cost, no obligation free estimate.