Expert Roof Replacement in Northeast Ohio
Quality roofing systems & craftsmanship you can count on
A long-term investment. Replacing your roof may seem like a big decision now, but you'll love the long-term benefits.

The Design EyeQ® Visualization Tool allows you to experiment with different roofing options to create your "dream home look" before you make a purchase.
A roof replacement is a big deal for any homeowner, which is why the experts at RJK Roofing Solutions are here to provide complete roof installation solutions in Ohio. Our roof replacement services will ensure that your home has a durable, sturdy roof that will look great and last for years to come. We serve residences, businesses, apartments, and condos throughout Northeast Ohio.
Our certified roof installers take special care to ensure quality work throughout the roof installation. All roofs eventually break down and need replacement, no matter the type of material or how well they were maintained. We utilize quality roofing products and cutting-edge techniques to enhance the quality and durability of your roof.
If you think your home is in need of a roof replacement, give us a call at 1-440-427-3994 or click below today. We offer free quotes on all our work!
Before and After
Before

After

Roof Replacement with CertainTeed Landmark Pro Max Def Shingles in Heather Blend

Before

After

Roof Replacement with Owens Corning Duration Designer Shingles in Black Sable

Before

After

Roof Replacement with Owens Corning Duration Shingles in Driftwood

Before

After

Roof Replacement with Owens Corning Duration Shingles in Colonial Slate

Before

After

Roof Replacement with Owens Corning Duration Shingles in Driftwood
Reasons to get a new roof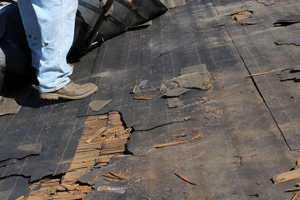 A solution for every situation. Even if severe weather forced you into a roof replacement, we can provide a fast, effective solution.
Installing a new roof is a great way to improve your home's function and appearance. Although there are several reasons to get a new roof, the most obvious one is wear and tear on the old one. All roofs will eventually need replacement, and if you see missing or broken sections of shingles or tiles, leaks or light coming through, damaged flashing, or other problems, roof repairs may not be enough. It is always a good idea to have your roof looked at by a qualified contractor if it's past warranty or looks worn out.
Another common cause for roof replacement is storm damage. Even the most careful homeowners can't do anything about severe weather, and unfortunately, many homes are affected by natural events like high winds, hail, and falling trees. If your home has suffered any type of storm damage, we can help! Our roofers can quickly and effectively return your home to normal and keep the inside dry and protected with a durable new roof.
Of course, not all roof replacement has to come from negative causes. Many homeowners elect to replace their roof simply for the aesthetic value, as a new roof can completely change the look of a home. If you are re-painting or re-siding your home, adding a new roof to the process can make your entire house look brand new! A new roof will increase curb appeal and property value, making it a very beneficial home improvement project.
Products
Owens Corning Roofing Options
Owens Corning offers a wide variety of shingle options, all of which meet the highest standards of quality, durability, and appearance. The three main categories are architectural, specialty, and traditional shingles. Architectural shingles are available in many lines, including TruDefinition Duration Shingles and Oakridge Shingles. Similarly, specialty shingles include Devonshire Shingles, Berkshire Collection Shingles, Duration Premium Cool Shingles, and TruDefinition Duration Storm Impact Resistant Shingles.
Benefits of Owens Corning shingles:
A variety of color choices
Energy efficient options
Extensive warranties
Strong and durable
Headquartered in Valley Forge, PA, CertainTeed is a leading North American manufacturer of building materials and specializes in the production of high quality roofing and other materials including vinyl siding, trim, fence, railing, decking, insulation, gypsum, and ceiling products.
Many homeowners choose CertainTeed for their home installation or remodel. Here's why:
A broad selection of over 40 fade resistant colors to choose from
Shake and Shingle siding comes in a variety of blends and textures to achieve the style you want for your home
CertainTeed TrueTexture products are regarded as the most authentic wood look in the industry
Over 400 roofing options
Products are low-maintenance and long-lasting
CertainTeed Asphalt Shingles
CertainTeed manufactures a variety of high quality, durable asphalt roofing systems. Asphalt roofing shingles are the most commonly used covering on residential properties in the market. Asphalt's primary purpose in roofing shingles is to serve as a waterproofing agent. Asphalt also holds the granules in place and adds to the overall strength of the roofing shingle. The best asphalt will stay flexible and will not dry out or become hard or brittle for the expected life of the roofing shingle.
Strip Asphalt Roofing Shingles
Strip asphalt roofing shingles are single-layered asphalt roofing shingles typically designed to look like slate. Strip roofing shingles are usually the lightest weight asphalt roofing shingles available in the market. Built on a tough fiberglass base, each shingle provides resistance to blow-off and tearing.
Dimensional Asphalt Roofing Shingles
Dimensional asphalt roofing shingles are manufactured as multi-layered products and provide a thicker and richer appearance on the roof (a multi-dimensional look). Dimensional roofing shingles typically are heavier weight than strip roofing shingles and usually have improved warranty protections, which can range from 30-years to Lifetime.
Premium Asphalt Roofing Shingles
Premium asphalt roofing shingles are usually described as laminated shingles that have a differentiated appearance or functionality from traditional dimensional asphalt roofing shingles. These products may have designs that mimic "old-world" roofing shingles, like natural slate or natural shake roofing shingles. CertainTeed's Grand Manor™, Presidential Shake™ and Centennial Slate™ shingles are prime examples of premium roofing shingles that provide an enhanced aesthetic appeal.
The right roofing material makes all the difference
At RJK Roofing Solutions, we specialize in asphalt shingle roofing that will add both beauty and weather resistance to your home. We will work with you to make sure your re-roofing project is on budget and provides the solutions you need. Specializing in shingle tear off, re-roofing, and complete roof replacement, we will handle the entire roof installation process from start to finish.
We can give your home the perfect new roof
At RJK Roofing Solutions, we understand that it can be difficult to know what steps to take when considering a roof replacement. When you work with us, you can rest assured that we don't cut corners. You'll simply get a result that lasts.
It doesn't matter what your motivation or needs are -- we always provide high-quality roofing solutions that will last for years to come. Call us today to get started with a free quote! We proudly serve in Cleveland, Mentor, Solon, Painesville, Beachwood, Chesterland, Chagrin Falls, Willoughby, Novelty, Perry and throughout the surrounding areas.